Are You Ready to Create Your Premium Course
Get your time back, impact more people, & earn more money?
Are You ...

- Imagining a bigger impact as a leader?
- Interested in scaling your business from one-to-one to one-to-many?
- Ready to increase your income as you reach more people and create a premium business asset?
If so, then I'm excited to announce a fabulous training experience to help you do those exact things: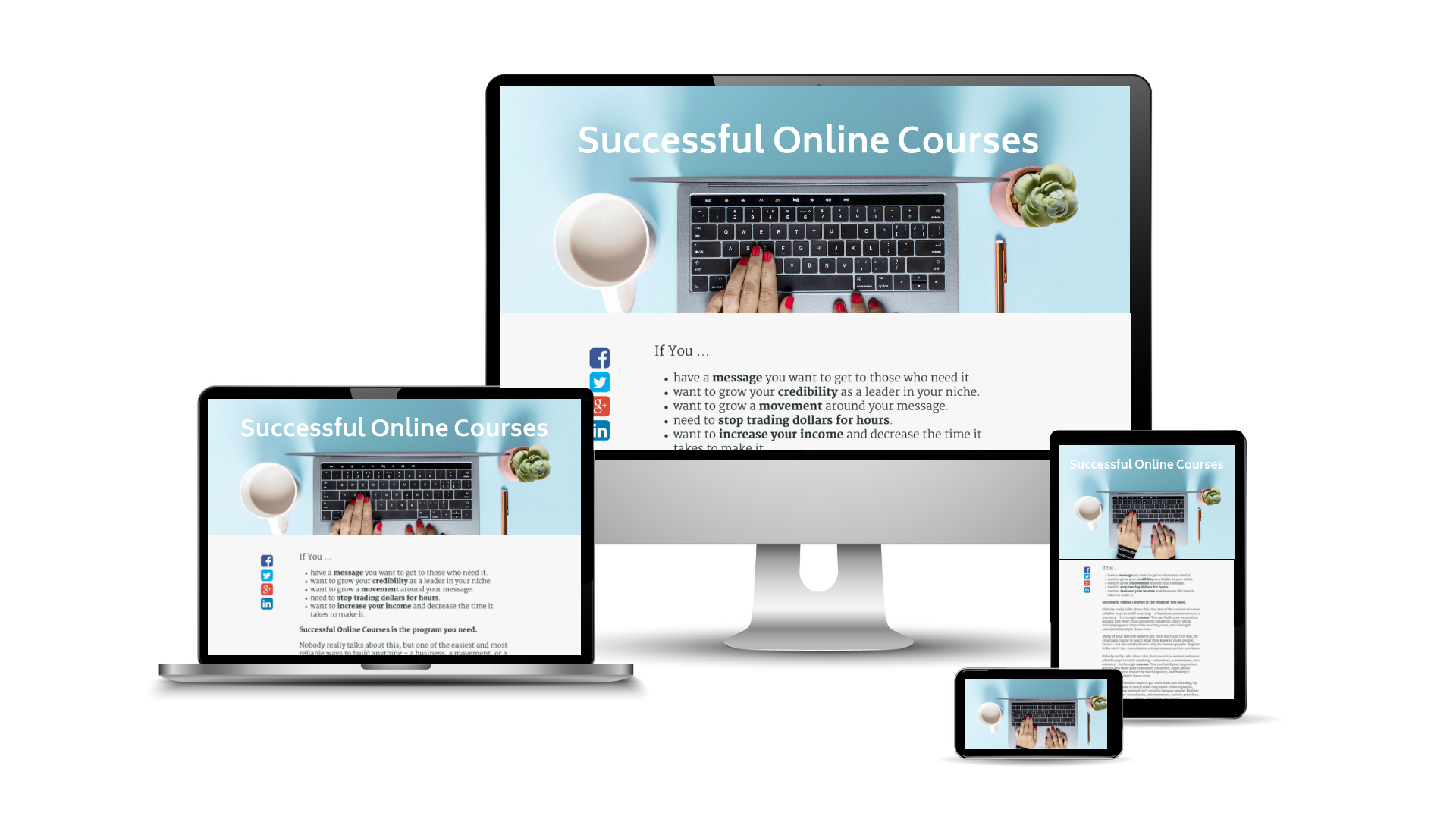 Successful Online Courses is the only course creation training program of its kind that not only shows you exactly how to create and market your online course like a professional — but also provides live office hours at each step of the DIY (do-it-yourself) process.

Decided your course topic

(instead of spending yet another year mulling it around)

Validated your topic idea to make sure your audience it is something your audience wants and will pay for

Expertly produced and published all your course content, even if you're technically challenged and have never done any kind of video before - ever (hint, you may not have to)

Developed a an irresistible offer and marketing plan that draws the perfect people to your course

Crafted a winning sales page to increase your course enrollment and make sure those who see it have the best possible chance to become students

Prepared a student success plan to give your students the best possible chance at finishing and excelling in your course while dramatically cutting down on refunds

And… Increased your authority and followers and positioned yourself as a leader

in your niche
This epic training program contains everything I know about creating and marketing courses (and I know a lot - I have written a full homeschool curriculum K-8th grade, 40+ books, 25 different courses, and marketed them all to thousands of students in the last 6 years.)
I've studied under some of the best names in the business: people like Ray Edwards (copywriting), Ryan Levesque (The ASK Method of marketing), Jeff Walker (Product Launch Formula) and Aaron Walker (Relationship Marketing and Masterminds) and Michael Hyatt and Stu McLaren (Platform and Memberships) and boiled down all that I've learned from them to plug into just the right spots to make creating and marketing YOUR course successful.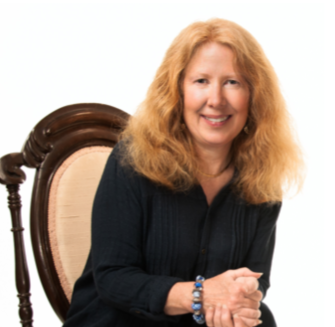 "I attended Katie Hornor's Course Creation Private Retreat and left with my course completed. I've since been requested and told by NY producers it needs to also be a book. Wrote the book. It's become a best-seller. Big things happen when you step out in faith and have a wonderful Coach/Mentor! "
- Brenda Mason, Downsizing31.com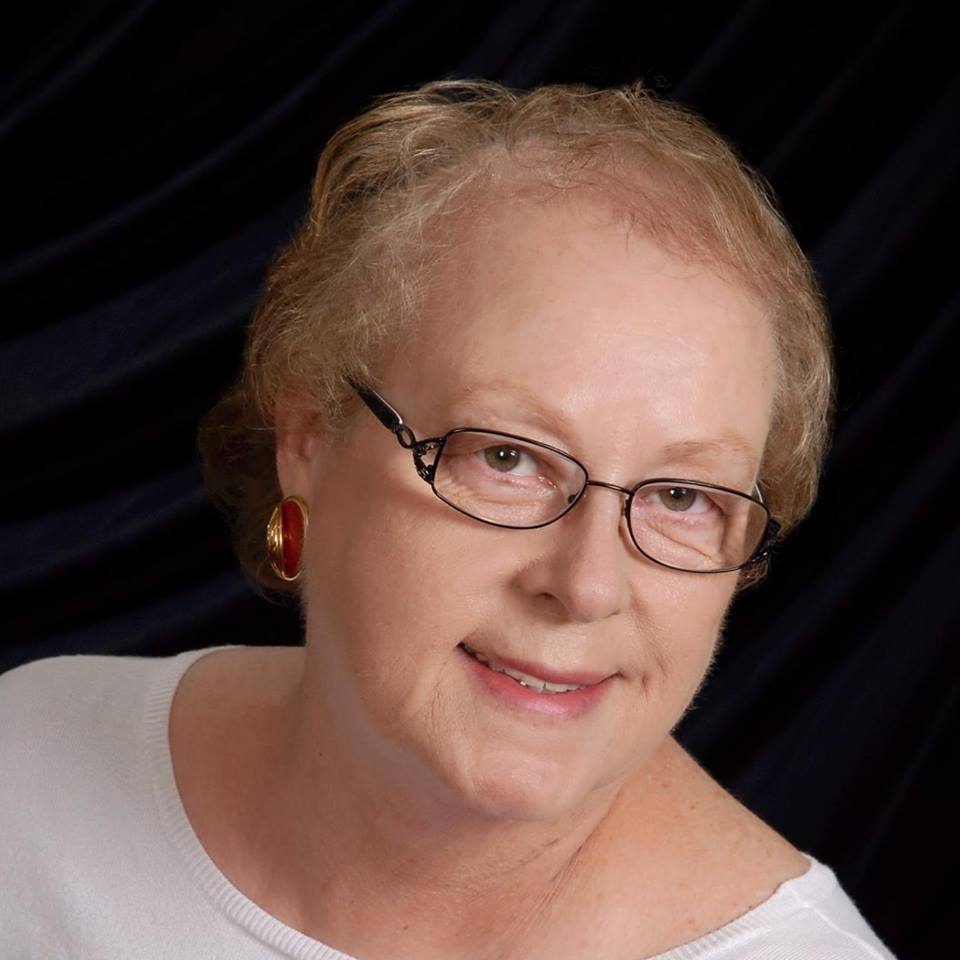 "You will love the opportunity to work with Katie... She helped whip my course ideas into something special and helped me create a course I am proud of!"
- Cynthia Charleen, OrganizeYourHomeOffice.com, Successful Online Courses Graduate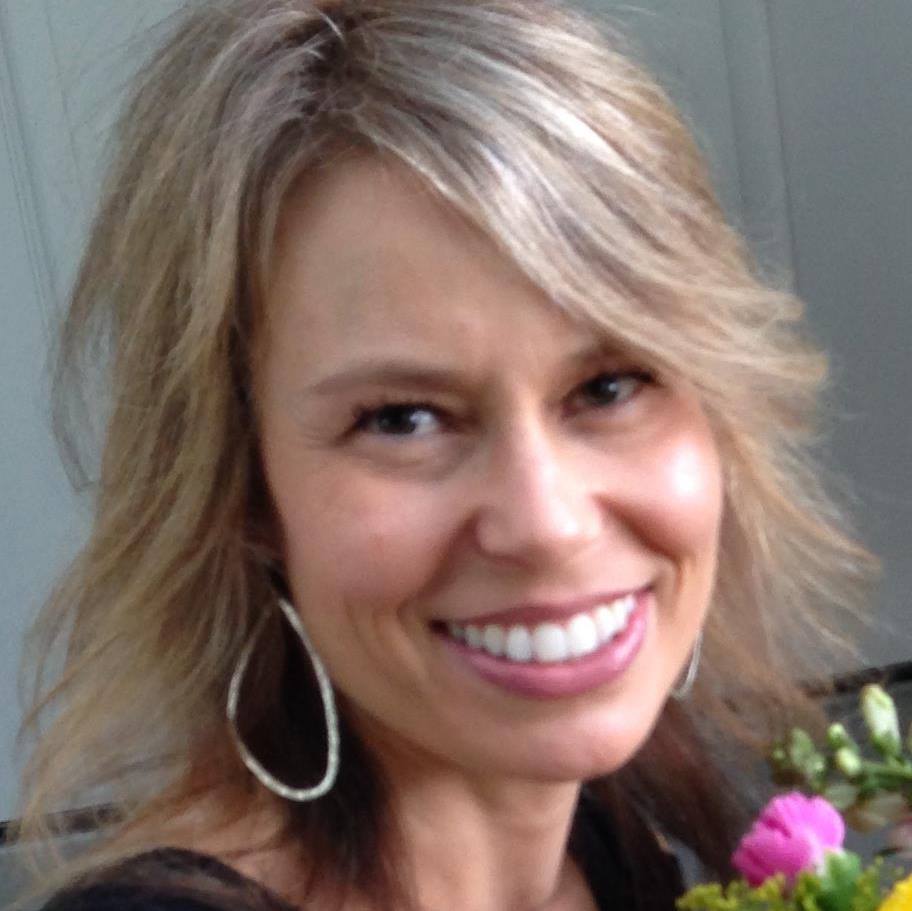 "The course is EXTREMELY thorough!!!! The value that Katie personally provides through coaching calls and direct communication is invaluable. Along with the overall in-depth content, her availability and support was amazing. Katie has had an incredible impact, and allowed me to see the impact my course will have on others. She is always one step ahead of us as students, providing answers and incredible resources. This course content and her helpfulness and contact availability were exceptional."
- Julie Seiler, practicallyspent.com, Successful Online Courses Graduate

Nobody really talks about it, but one of the easiest and most reliable ways to build anything – a business, a movement, or a ministry – is through courses!
You can build your reputation quickly and meet your customers (students, fans), while multiplying your impact by teaching once, and having it consumed multiple times over.
Many of your favorite experts got their start just this way, by creating a course to teach what they knew to more people, faster - but this method isn't only for famous people. Regular folks use it too: consultants, entrepreneurs, service providers, musicians, artists, crafters, ministries, you name it.
The truth is that courses are the most popular way to grow movements and pass on information - people have been doing this for centuries!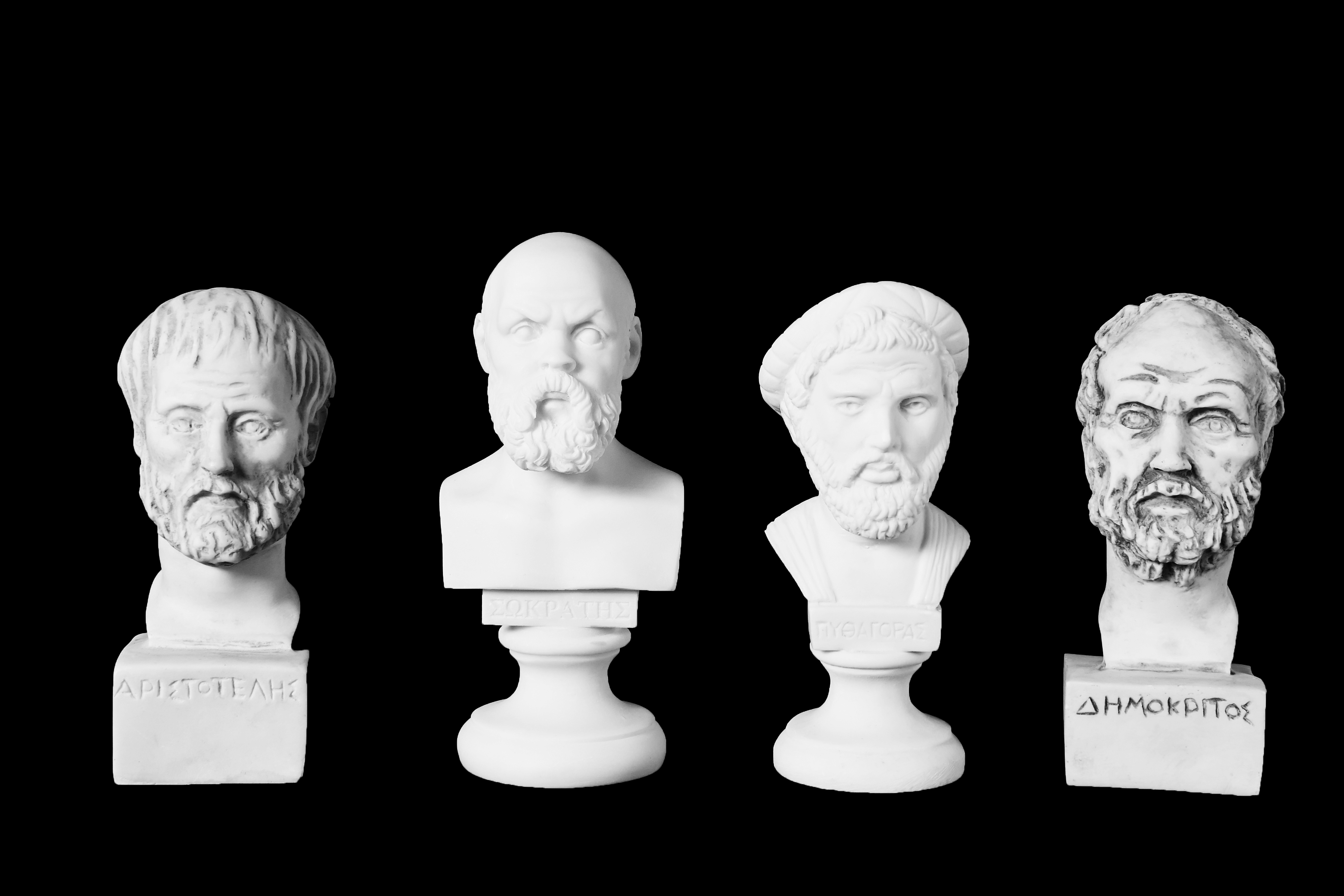 I have personally used online courses to increase revenue and impact for over 6 years.
I started as a nobody with no online business background and created curriculum and courses that have pushed my husband and I into the position of leaders in the worldwide Spanish Homeschool Movement in just 6 years time.
I've tested and refined courses so you don't have to make the same mistakes I did.
Want a faster way to grow your reputation as a leader in your niche and rally folks around your movement?
Online Courses are the way.
You can bypass years of burnout teaching one to one… and instead, quickly...
Make a name for yourself as a LEADER

Build a MOVEMENT around your message


Create INCOME while you impact more people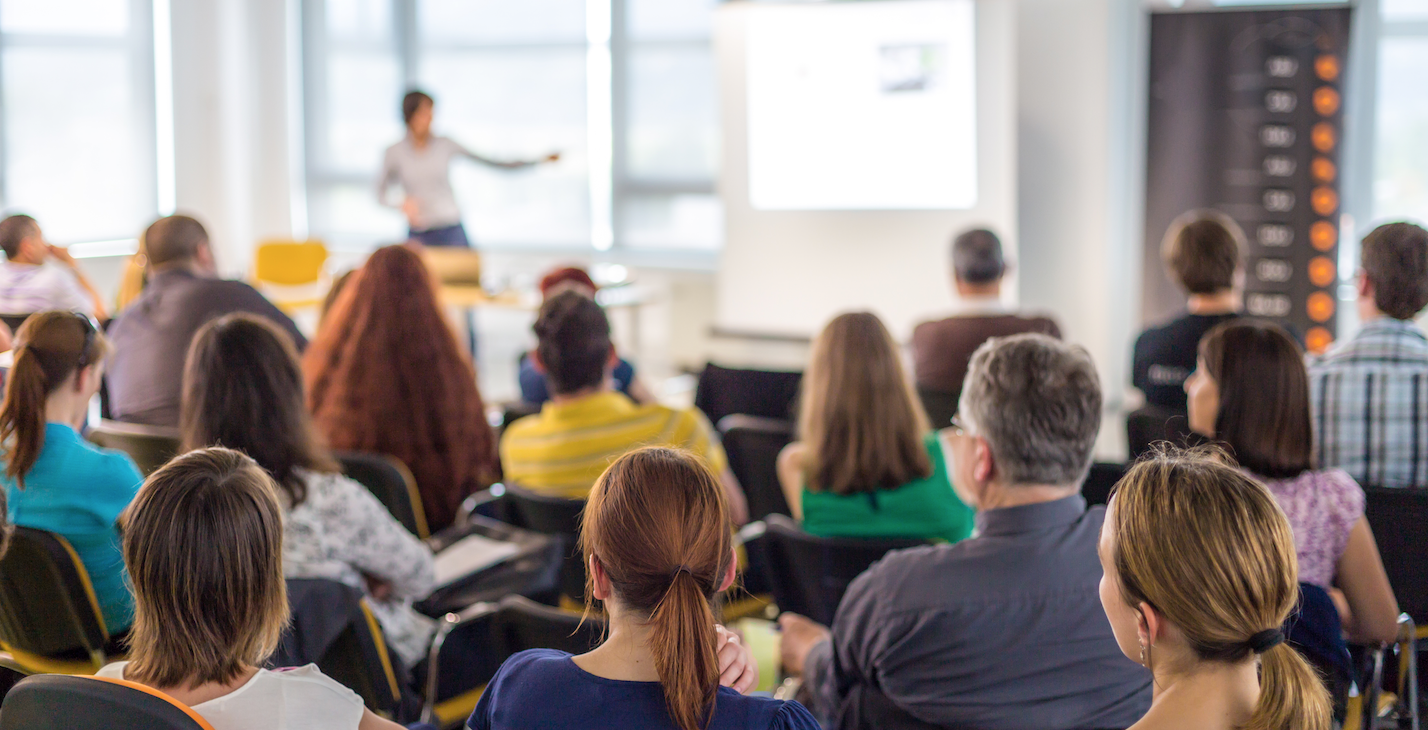 Creating a course has other perks too:
Like TIME FREEDOM…

The FULFILLMENT that comes with sharing a message that changes lives…

And getting PAID to share what you're passionate about!
With Successful Online Courses you will create your premium course using the same process and system for course creation and marketing that has allowed us and our students and clients to create over 25 courses in the last 6 years, Serving nearly 7,000 students in our courses in the last 3 years alone.

Successful Online Courses
5 Instruction Modules and the Course Creation Blueprint giving you literally EVERYTHING you need to do to turn your expertise into a transformational digital course that people want to purchase
The Student Success Formula to make sure your students complete and SUCCEED in your course, diminishing refund rates, and increasing word of mouth excitement
A complete marketing plan outlining your PERSONALIZED strategy for reaching your audience and enrolling them in your course, including social media and email strategies
The 5 Modules: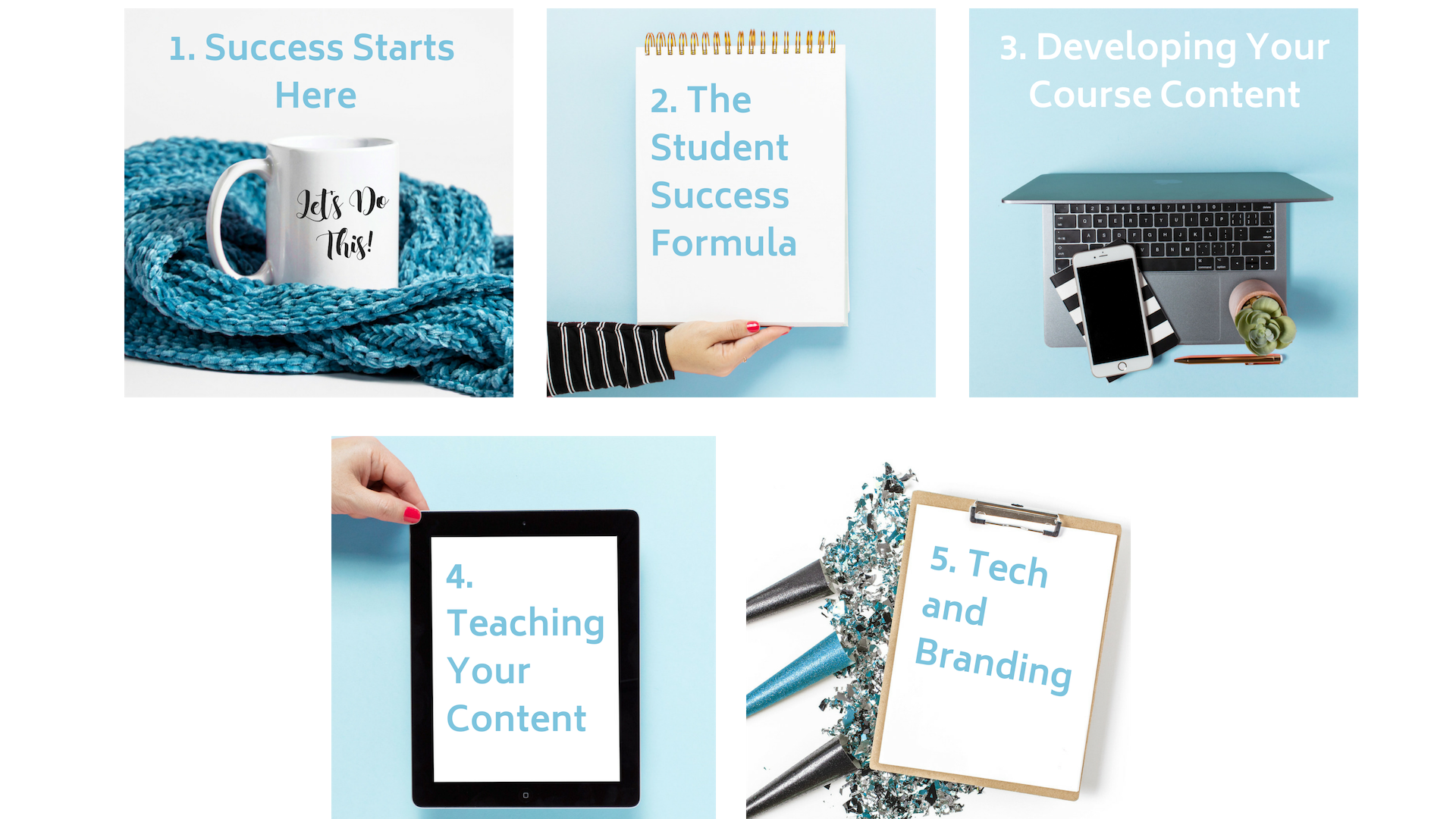 When you join, you'll be getting immediate access to the "Premier Your Course Idea" Bonus Module where you'll dig into the ultimate guide for confirming and validating your course idea.
You'll also receive access to the complete course -- all 5 modules — so that you can choose to complete the training and execute each part of creating your course BEFORE moving onto the next module, but you ca do it all AT YOUR OWN PACE.
Overwhelm is the number one enemy of action. We provide a suggested content schedule to keep the overwhelm at bay, but we also do not hold you back if you're a fast learner.
5 Modules:



Bonus #1: Office Hours with Katie
Live office hours with Katie. This will give you the opportunity to ask me questions and get advice. Each month we meet live so you can get personalized feedback and make your course the best it can possibly be. (Private coaching clients invest up to $1,500/mo for this! )
Bonus #2: Successfully Market Your Course (Bonus Module)
This bonus video training outlines the must have's of a successful course marketing campaign. Need a personalized strategy for reaching your audience and enrolling them in your course? These social media and email strategies will have your course selling in no time. ($1,997 value)
Bonus #3: The Perfect Sales Page Class
Sales pages are never perfect, there are always things to be tweaked, but you can get it as near perfect as possible, ranking up there with some of the best marketers of the day, if you follow the steps outlined in this bonus class + checklist. ($149 value)
Bonus #4: Get Your Emails To The People! Class
A big key to successfully selling your course to your email list is to getting an email delivered in the first place! This video training outlines best practices and includes an invaluable download so you won't get blocked from your readers' inboxes. ($149 value)
The total value of all of our Bonus Package is $6,940.00. More than twice the price of the course!
That means you're getting $6,940.00 of real-world value
for just $1,199.
Successful Online Courses is your complete A-Z Blueprint for creating, and marketing transformational courses that turn fans into followers, accelerates your growth as a movement leader, optimizes your profits and minimizes the time necessary to make a living online.
Join us today!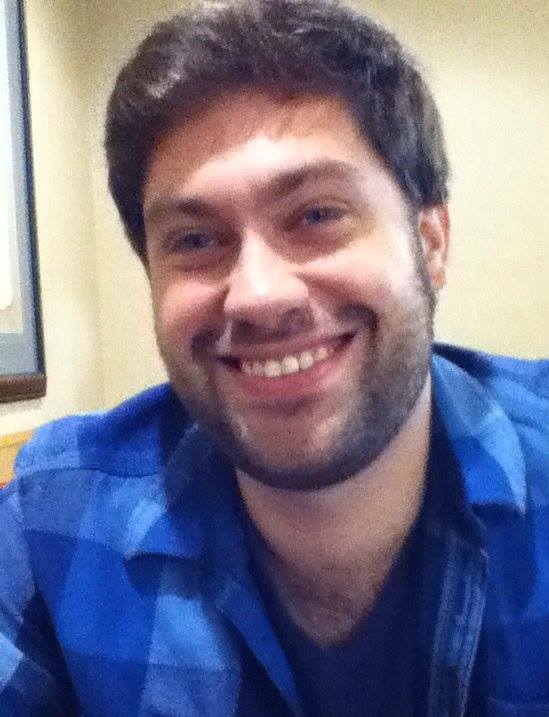 "I have a lot of courses I want to create. Successful Online Courses helped me set the path to get these done and was so helpful when it came to planning my lessons and structuring my classes, as well as the business and marketing side of selling courses."
- Tim Devaney, Successful Online Courses Graduate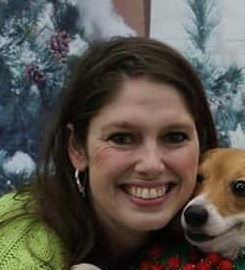 "The best perk is having the near-instant feedback from Katie in the group. It's been fabulous! Compared to other group coaching programs I have been in, she responds faster and generously shares her wisdom and insights... it's not just a fast, one-line response."
- Tammy Whitten, WomenManagingStress.com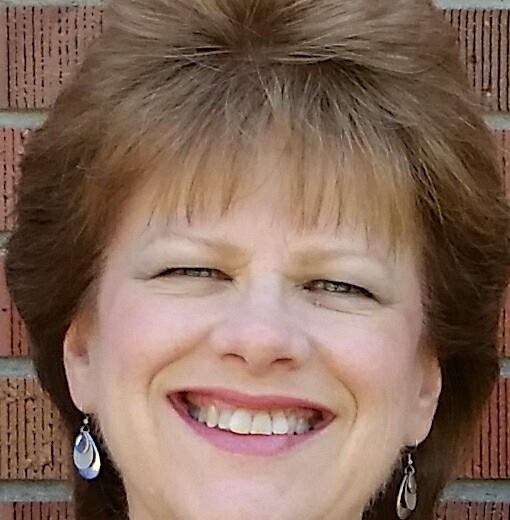 "Katie's so personal--she's become a friend and a mentor. Going through the modules that she has created, I have been able to apply her tips and techniques immediately, and see growth through every single step! I can't recommend her courses highly enough!"
- Wendy Gunn, YourHomeforGod.com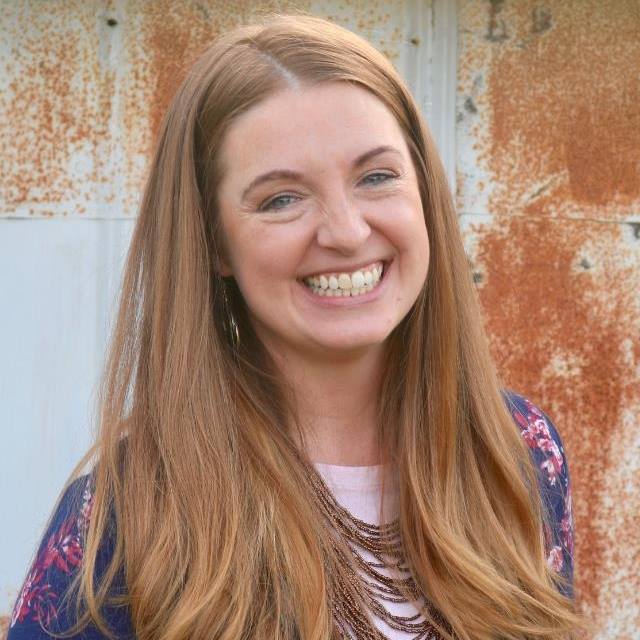 "Have you been wanting to make an online course but not sure how? Or maybe you've already got a course, but it isn't selling very well? Either way, Katie Hornor is your gal. She will walk you step by step through the business process - from the very beginning to an established, profitable business. Investing in Katie as my mentor is the single best investment I've made in my business. Her help and wisdom are invaluable."
- Jeniffer Do Nascimento, ThouShallNotWhine.com
Let's do an exercise before
I see you on the other side.
Just imagine running. Take a moment and imagine running as far as you can alone.
You have no limitations and you can go as far as you want. How far did you go?
An ultramarathon, 5k, 10k, or a marathon?
If you're like me, you'll be lucky to get around the block and back even twice!
It's no fun running alone, without the support and motivation of someone by your side.
Who pushes you to slop through the puddles? How do stay motivated to NOT hit the snooze button, but to get up 3 hours early to train - on your birthday. When every muscle in your body hurts, and you want to yell to the world "I quit"...
Or when you can't see that finish line...

That's what it's like creating your course alone.
You will have days that it's easy. Everything flows great.
And there there will be days where you're temped to get reach your hand out of bed and hit the snooze button, 3 times.
There will be times you sit at your desk, staring at a computer screen or your paper, wondering what to do next. Minutes turn to hours, and all you accomplish is watching funny cat videos.
How long will it really take you to get your course created, working alone?
An added Bonus that you're getting is the amount of coaching provided in our office hours to get your course DONE in 9 weeks.
The reality is you don't have to feel overwhelmed, unmotivated or confused anymore in the process.
I will be coaching you through the entire thing. I will bring clarity to your project.
I'll be your cheerleader, your running mate and your coach!
After all the results from the action you take, you will have even more confidence in yourself, your message and your purpose in life.
Make the investment in increasing your speed and decreasing your pain of doing it alone.
You have two options:
Try the marathon of creating your course - alone.
Or join me and others running a different race in completing a Successful Online Course together.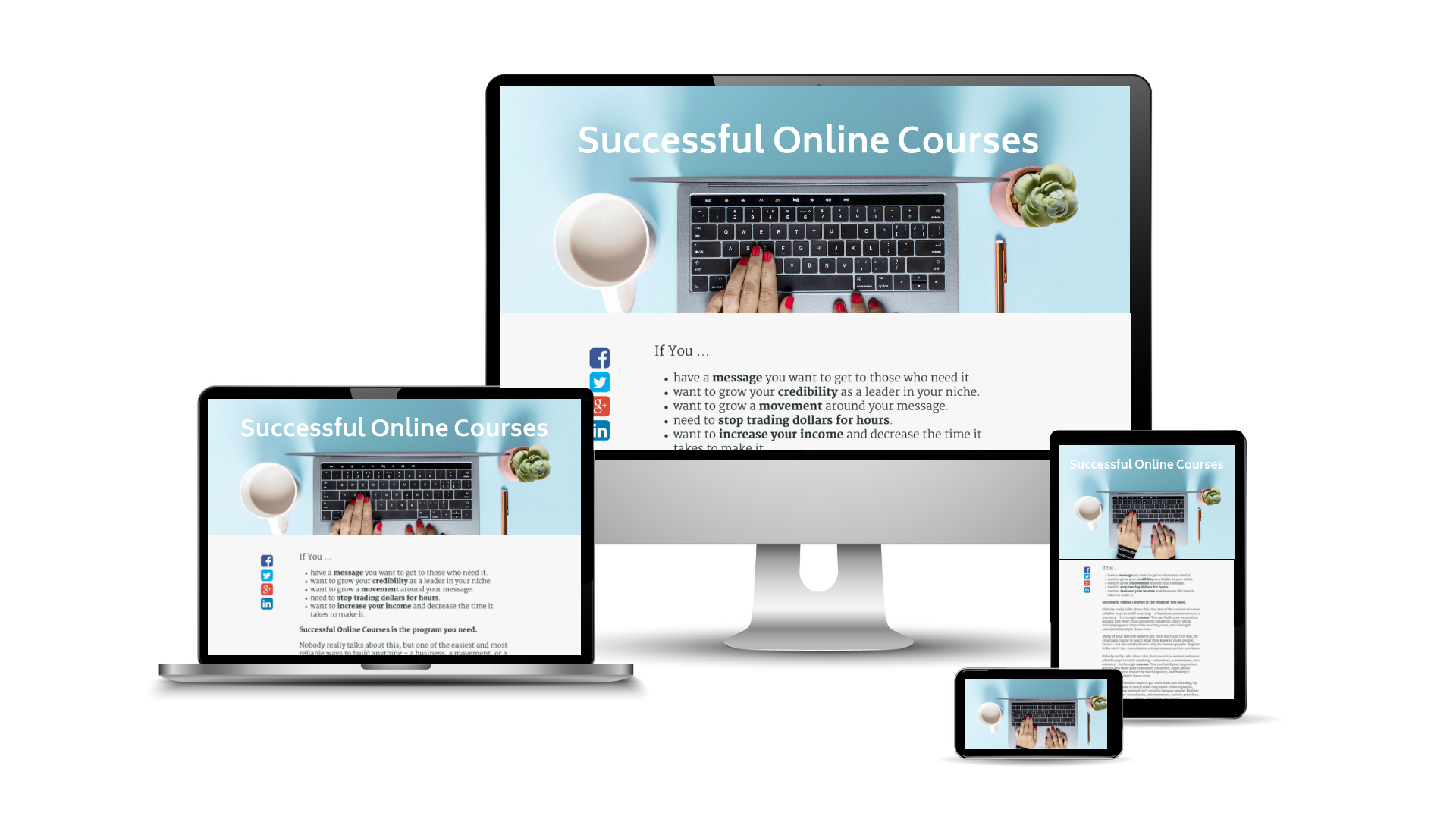 Anyone can create and market their course using the Successful Online Courses training. I've shown you the proof that it worked for me and works for others, and it will work for you too.
I am not offering a guarantee on this product, because I have found that too many people use a guarantee as an easy out when things get hard.
So my giving you a guarantee in this case will actually hurt you.
Buy this course because you're serious about creating your course, getting it to those who need, increasing your time freedom, your income and your legacy impact.
Then let's work together to get you there!
There are 7.6 billion people in the world and many are looking for your help right now. A certain small group of these people are waiting for you — you specifically – to step up and deliver your message to them.

And you won't be alone. I'm going to "hold your hand" every step of the way and walk you through this process. You'll have daily access to me if necessary through the

Facebook group

Office Hours calls

and Bonuses galore

It's been said that "in your moments of decision your destiny is shaped."
What will you decide to do right now? The same thing you've been doing (with the same old results)? or will you decide to change your results, your destiny and the destiny of your future students, by joining us in the Successful Online Courses training.
Join us today!


Frequently Asked Questions
What will I walk away with at the end of the class?
Each student who puts in the work will walk away from this course with their own course created and a marketing plan by which to sell it.
What happens after I purchase Successful Online Courses?
After you submit your order, you'll create a username and password. This is how you'll access the members' area. That's where you'll find all of the course content modules, downloads, templates, and access the bonus content. You will also receive an email confirmation of your purchase.
When does the course start and finish? and what is involved work wise each week?
The course starts as soon as you enroll and ends with graduation in 9 weeks! All the modules are accessible immediately and you have lifetime access to the course materials and the office hours replays in the course Facebook group. There are 2-6 short video lessons (with audio and transcripts provided) for each module. Additionally there are office hours calls in which we're, answering questions, giving feedback, etc We anticipate that the lessons/ assignments will take approximately 1-3 hrs per week to complete, depending on the person, etc.
Are my credit/debit card details secure?
Yes. All payments are processed through our payment processor and are 100% secure.
How long will I have access to this program?
You will have lifetime access to the online course materials. You can go back through them at any time in the future. Lifetime access does not include updates, but you will be able to purchase updates for a minimal fee if desired.
When I join Successful Online Courses will I get access to the course all at once or only in pieces?
When you join, you'll be getting immediate access to the "Uncover Your Course Idea" Bonus Module as well as all the other course materials. Overwhelm is the number one enemy of action. But so is frustration. We provide a guide for completing the modules in the 9 weeks time, but do not want to hold you back if you prefer to work faster.
Are the office hours calls live?
Yes! My mastermind students and coaching clients pay up to $1500/month for coaching, but you get all the monthly office hours calls as a bonus when you join the course! I'll be live on video call on a regular schedule to get your questions answered. If you can't make the call for some reason, you can submit questions in advance, and access the replay inside the Facebook group. While we encourage students to be present at each live call, we do provide replays in the event that you need to miss for some reason.
What if I'm not good at making videos?
There are multiple ways to teach a course and video is one, but it's not the only one or even the most effective in some cases. This course will teach you about the many different ways to deliver your instruction and help you decide which method is the best for you and for your audience. AND if you do decide video is the way to go we've included a special lesson with video tips just for you!
Is this class open to men and women?
Yes. The class is open to anyone. The majority of our past students have been bloggers, teachers, or business owners who desire to grow their message, movement or income streams through online courses.
What if I don't have a website or an email list?
Having a website and email list is not a pre-requisite to this course. It will be easier to sell your course if you already have a following built up somewhere, social media for instance, but with this course you will be able to create and sell your course whether or not you already have a website and an email list.
What happens after the class is over? Will there be additional fees down the road if I have questions after the class ends?
Students are welcome to remain in the student Facebook group for as long as you wish after the course completes, asking questions there for the benefit of all. Additionally I do have private coaching and mastermind memberships available to a limited number of clients per year in the event that you might need it.
Will I need to invest in any other trainings to create and launch my course?
Absolutely not. Everything you need is all here. All you need to create and market a Successful Online Course is right here inside this training. If your goal is to add other pieces to your business (memberships, speaking, coaching, events, affiliate programs, etc.) then you might choose to invest in other programs over time to help get you there. But if your goal is to create a digital course that transforms the lives of your students and that frees you from the time for money trap and allows you to spend more time actually living life… then everything you need is inside the training. You will need to invest in a software to house your course content for your new students and set up your marketing system to launch your course. To keep things simple and effective, I suggest Teachable to all of my students and use them myself. They are the best course platform (in my opinion) and are inexpensive and incredibly easy to use. I will tell you more about Teachable when you join and how to get your course set up on their site.
Is this just a bundle of your previous programs?
Certainly not! Successful Online Courses has been built from the ground up, factoring in all our findings from over 6,000 students and 24+ courses. I've spent nearly two years creating this brand new implementation program that integrates EVERYTHING you need to create, and market your course as a first time course creator. The result is the most amazing step-by-step course creation program (plus coaching) on the market!
Do I need to be "techy" to create a course?
The tech required for online digital courses is extremely low compared to other online businesses. If you can work a mobile phone, you can do this. I believe in "simple is superior" and will be giving you all my top software recommendations that are easy to use (even for the non-techy) and yet very effective. As long as you're willing to put in the effort and follow along with the lessons, tech will NEVER be an obstacle for you inside of Successful Online Courses.
I don't know much about marketing. Will this be over my head?
It depends. We're all in various stages of our marketing experience, and no matter what we do in life, we're always "selling someone" on something... The lessons in this training make NO assumptions of your current skill level, and will map out the entire A-Z process of creating and selling your Successful Online Course. And you'll have access to the monthly office hours calls for further help/clarification as you need it. Whether you're brand new or super experienced, your willingness to diligently work through the material, trust the process, and confidently ask the questions needed to move you forward is what will make the difference for you.
Are there transcripts within the course for video content?
Yes. All videos over 1:00 in length will have a transcript provided. The live coaching calls will not have transcripts.
What if I have other questions?
My team and I are here to help. Simply email us at
[email protected]
, and we'll be happy to assist you.