Phone calls and texts are nice, but a hand-written card wins the grand prize in gratitude bingo. Sending a handwritten letter can really change someone's day. Including yours. It's a proven fact that kind words do increase the happiness of the speaker and the receiver.
I know what you're thinking, "Sending mail sounds great but….. I never have cards when the inspiration strikes. Or, I always forget them at the store, and when I do remember I hate digging through them for just the "right one."
No worries, I can help with that! With the Lady Bug's Cards subscription you will...
Always have a beautiful card on hand to send - with a stamp!

Get joy by supporting the dreams of an up and coming teenage artist

Get joy from the gorgeous original designs created for you each month

Spread joy as you send encouraging words in your cards to friends and loved ones, or frame them or your own delight
Each month Club members get 3 new Greeting Cards with differing ORIGINAL ARTWORK BY A TEENAGE ARTIST.
My art is totally unique to this subscription membership, specially created for it and is not found in stores or catalogues. Your unique art cards will come right to your mailbox with stamps included, ready to write in and send to your friends and loved ones, or to frame and enjoy yourself!
Each month's package includes:
1 seasonal card

2 all occasion or thinking of you cards

3 envelopes

3 forever postage stamps

3 envelope seal stickers

Free shipping to USA address included

Occasional surprise gifts
Choose your subscription preference and click the button below to join now and you can spread joy with my next Lady Bug's Cards mailing.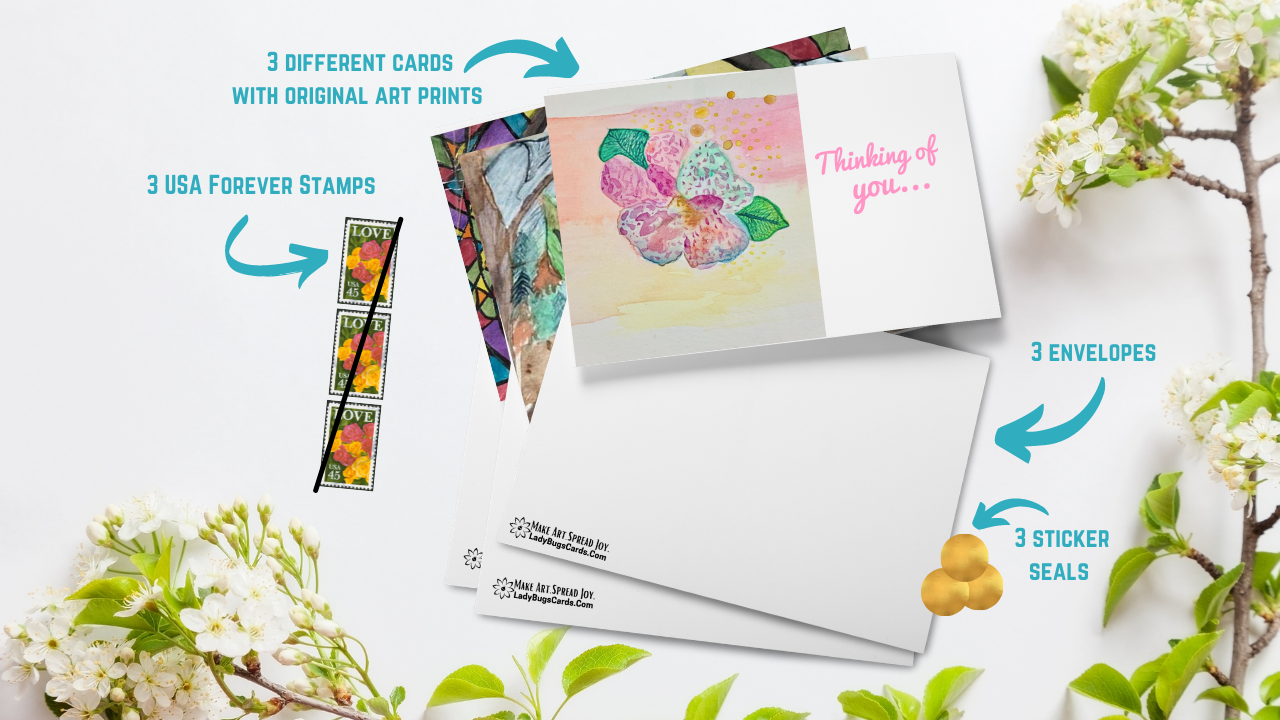 Spread JOY
There are so many benefits of training your brain to speak life and spread gratitude and joy.
You probably already already know this. The problem is finding the time to actually practice it.
Make it easier by having your own one-of-a-kind cards always within reach (and with a stamp!).
The beauty of writing hand-written notes is that the joy is multiplied. You'll benefit. And most definitely, the one who receives your card.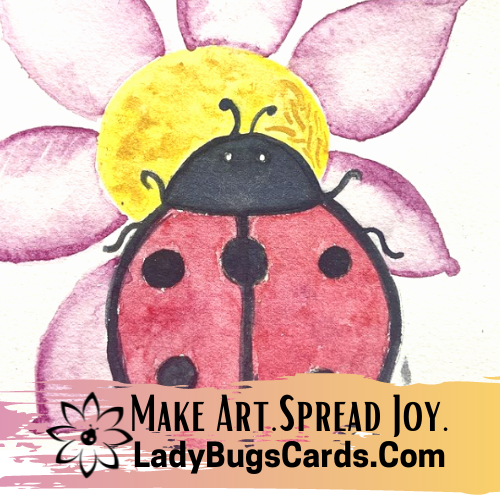 Frequently Asked Questions
What will be in each delivery?
Three high quality cards of different designs (1 seasonal, and 2 all occasion) plus three beautiful forever stamps to make it that much easier for you to get those notes in the mail, along with envelopes and seals. Lady Bug's Cards vary in size from 5.5x4 to 4.2x7.2. Each comes with matching envelope. Envelope colors may vary. Every month is different. All curated to make it easier for you to connect with others... to get inspired, and to spread joy! We include surprises in some mailings so don't miss a month!
When will my package of cards arrive?
Lady Bug's Card collections are sent via first class USPS mail. Current subscriber collections are sent by the 15th of the month, or the following business day when 15th falls on a holiday or weekend. When you sign up after the first of the month your mail date depends on availability. The available collection is noted on the subscribe page. When the current month is sold out the following month is shown as the next available month. If the current month is available your collection will ship within 14 business days. If you have not received your collection, email
[email protected]
When will I be billed?
You will be billed for your first collection when you order. Ongoing subscriptions automatically renew 30 days from the first payment.
Do you ship internationally?
At this time, we send collections via the USPS to USA shipping addresses only. The postage stamps included for each card are USA forever stamps.
How do I update my account information?
Your shipping address will be collected at checkout. If your address changes please notify us via email to
[email protected]
How can I gift a subscription?
Yes! just put their name on it and their MAILING address, but your billing info. Message us at
[email protected]
if you have questions.
What's with the Handprint Legacy thing?
I am a Teenage Artist... So... I have to do business (for now) under the umbrella of my parents' business, known by the names of Handprint Legacy and FelizPreneur LLC.
What is the return/ refund policy?
Sales are final. No Returns or Exchanges. Monthly subscriptions may cancel anytime.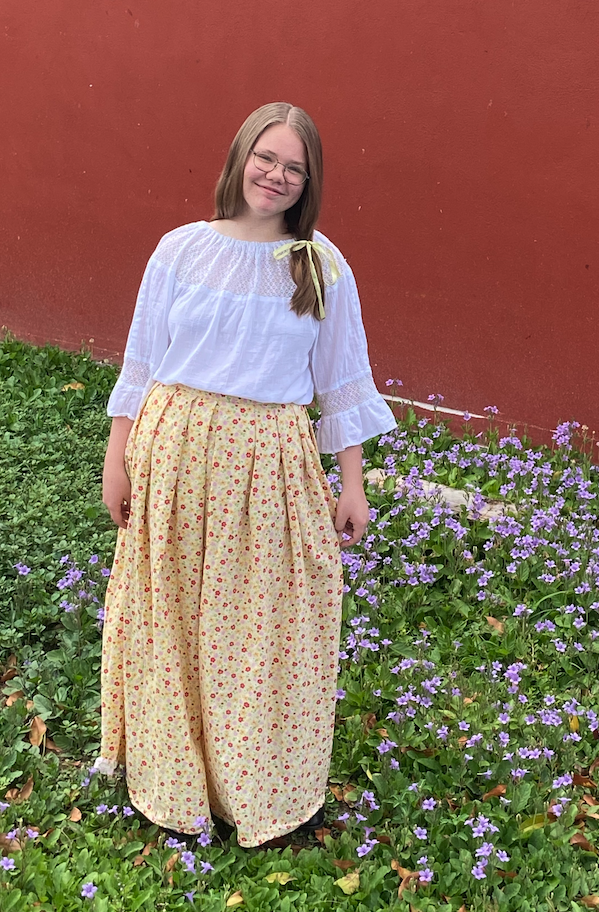 About the Teenage Artist:
Creating art gives me joy, and increases my sense of peace. Sending art out into the world brings me even more joy as I see the joy it delivers to others.

I am Karina Lynn, #TeenageArtist, violinist, and handmade historical clothing enthusiast and my mission is to make art and spread joy.
I believe each of us can make the world a better place by creating and/or sharing art with others. Whether designs and patterns, nature close ups or landscapes, I love capturing the essence of the creation that made God smile and say "It is good."
Join me in spreading joy by joining my Lady Bug's Cards Club or CLICK HERE if you want to be notified when my next set of original artwork goes up for sale.