A one of a kind business Bible study course for Christian entrepreneurs.
Are you ready to hear from God about your business?
Doing Business, with God course combines live Q and A business coaching with personal Bible study, and video instruction to help small business owners:
Reprogram your thinking and beliefs about God, His Word, yourself, & living out your faith while running a business so you can defeat the sabotaging self-talk and experience growth.
Hear from and follow God so you can propel your business forward, in confidence.
Conduct business with confidence in your uniqueness and God's divine purpose for your life.
Make Sales without feeling icky or dirty about it.
Clearly define your vision and next steps for your business post-COVID and beyond.
Get up every morning looking forward to another day to serve the people you've been called to serve.
What Past Participants are Saying:
I speak regularly with small business owners, authors, bloggers, speakers and podcasters around the world who have fears that are holding them back. For many, it's fears of the unknown, fears of rejection, fears of judgement, fears of success, fears of the tech, and now fears of what's next in an uncertain post-COVID world.
For four years I have taught people from all niches imaginable how to overcome those fears by the power of the Truth. I want to help you run your business with confidence and get results. Confidence that comes from doing business WITH God, not apart from Him.
In this Business Coaching / Bible Study Experience, I will give you strategies from God's Word that will help you re-program your thinking when it comes to what you believe about God, His Word, yourself, and your business. And we'll balance business that with principles and strategies that will be applied to your real-world business.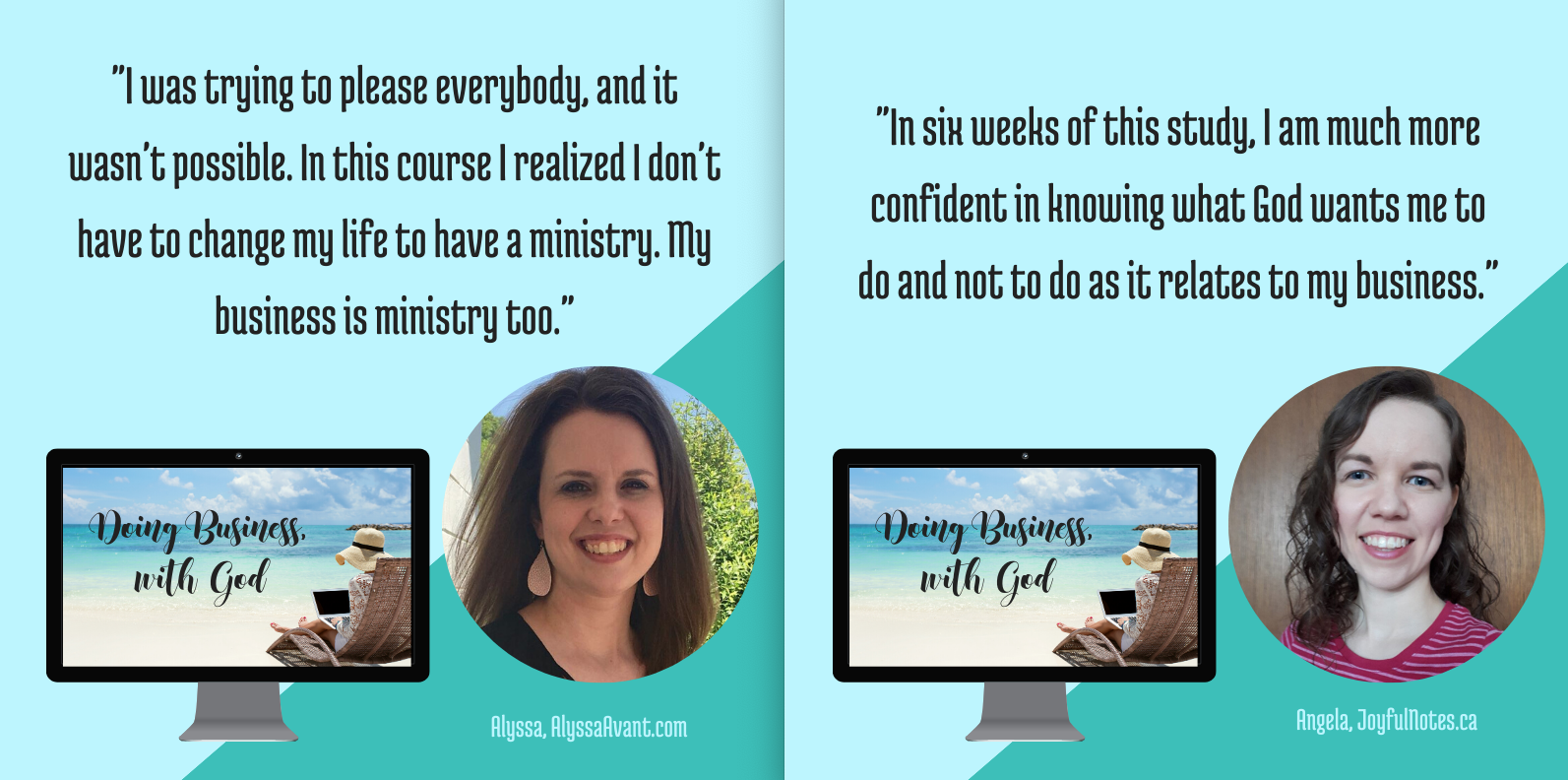 Doing Business, with God is a 6-week business coaching program with daily and weekly assignments at the end of which you'll
Have a renewed understand of who God is and what that means for you and your business.
Exhibit a new confidence in leading your business in partnership with God and for his glory.
Adjusted your business practices to align with your core values and God-given gifting and vision.
Learned the powerful formula for evaluating and confidently making every future business decision.
During the experience, you'll get the opportunity to
Evaluate yourself and your businesses in light of God's Word.
Learn together in fellowship with other Christian business owners in a private Facebook group.
Make real-world applications of what you're learning in live group coaching calls.
Be as accountable as you want to be in the participant group.
You will get
Weekly videos that walk you through how to make practical applications from what you're learning.
2 live coaching calls to cement your learning with discussion and application
A community where you can get your questions answered in regards to specific applications to YOUR business.
The PDF workbook for the class and PDF of Faith Like Flamingos. (You'll need to order the 2 text books linked below)
Lifetime access to the video and downloadable material.
Because it's only a 6-week program, you must come prepared to do the work. While the assignments will be brief, you'll need to make time for them every day.
I promise it will be worth it.
This program is for YOU if you're ready to put God first in your business, follow the Holy Spirit's lead and finally be able to make decisions in alignment with His purpose and with clarity and confidence.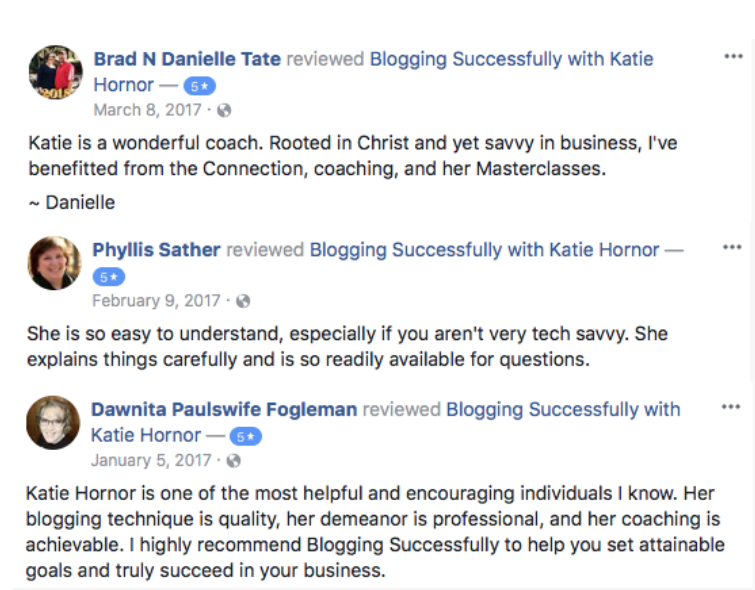 Did You Know?
It's estimated that more than 100,000 small businesses have closed permanently due to Coronavirus.
And yet Forbes Business reports that US retail online shopping is up 68% over 2019, and Canadian retail shopping has increased 146% from last year.
It's a REALLY good time to be a believer in the online marketplace right now, for 3 reasons:
1. There are many businesses going under, but those who can pivot, and survive will gain customers who would have shopped locally before.
2. With so much uncertainty in the world, those who offer hope and exhibit joy and peace while serving will stand out and have incredible opportunity for growth in the days to come.
3. Most believers will buy from a faith-based business before a secular one when given the choice.
If you are not confident in who God is and what He wants for your business, your time management, your product creation, your marketing, your service to your readers, customers or clients in these uncertain times, you are getting left behind.
We will succeed when God's Truth is at the heart of everything we do in life and business.
I'll be showing you how to walk that out in your daily business, like no secular business coach could possibly do.
Sign Up Now!
For this 6-week Business Bible Study course you'll only need to invest $199. Yes, you heard that right. But hurry, Doors will close shortly.
Sign up now to secure your spot!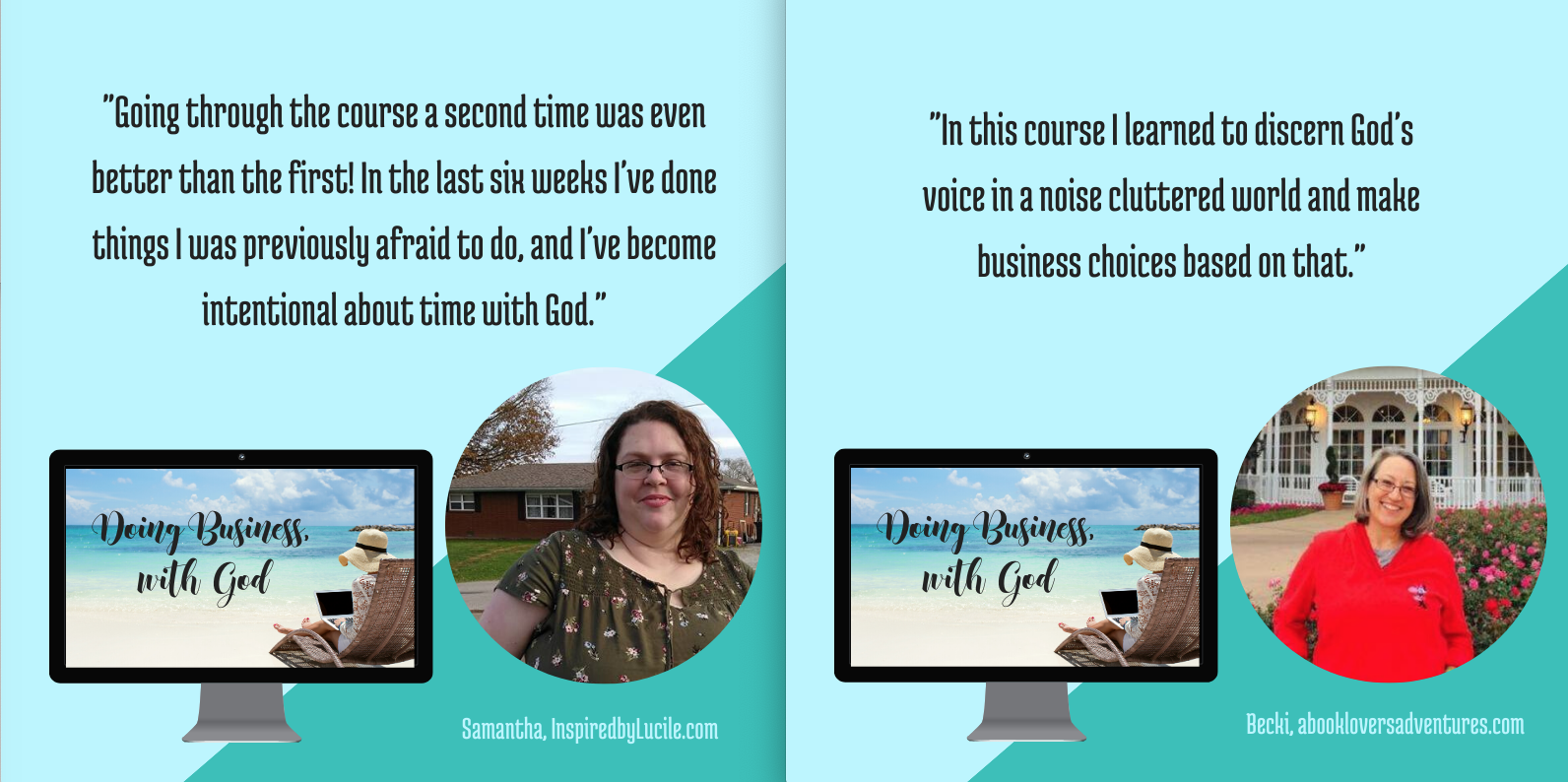 Your Instructor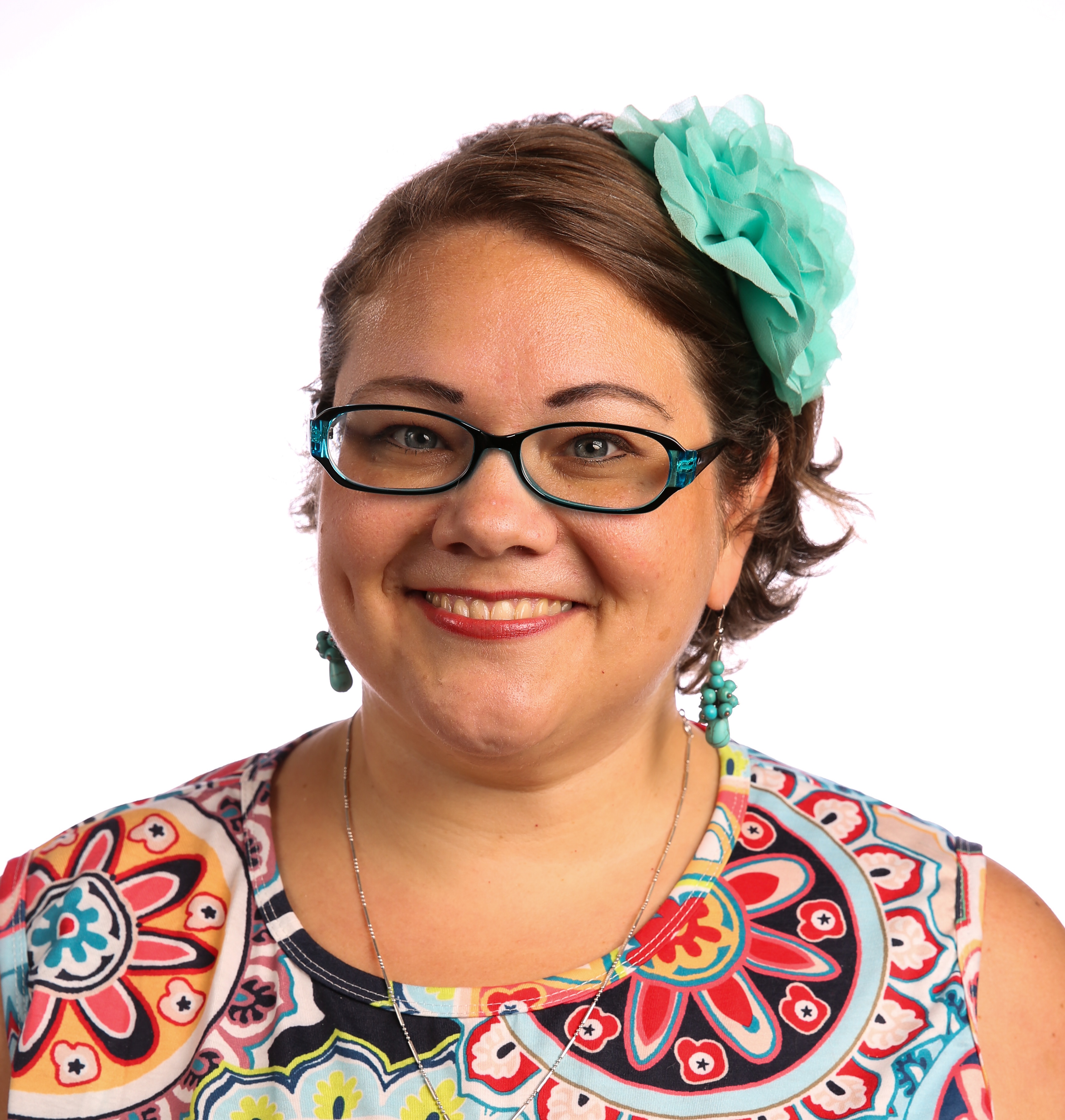 Katie Hornor is a best-selling author, online business coach, mentor and international speaker with a passion for seeing believers in the marketplace become the beloved first choice because of the way they do business with excellence and love on their people. Katie has a M. Ed. in curriculum development and educational administration and has studied under the best names in online business and marketing such as Jeff Walker (Launches), Michael Hyatt (Platform/Authority), Jeff Goins (Writing), Ray Edwards (Copywriting), Stu McLaren (Memberships), Pete Vargas & Pat Quinn (Speaking), Pat Flynn (Podcasting), Linda Hollander (Sponsorships), Ryan Levesque (Marketing), Russell Brunson (Funnels), Bari Baumgardner & Blue Melnick (Live Events) and Aaron Walker (Business Mentoring). Her spiritual mentors have included Marilyn Clark, John Maxwell, Jim Berg, Ken Collier, and Nancy DeMoss Woglemuth.
The founder of HandprintLegacy.com and Lemonhass.com, she is also the leader of the worldwide Spanish homeschool movement and the author of over 24 courses and 40 self-published books, including "Faith Like Flamingos: The Christian Business Guide to Walking Out Your Faith in Bold Color" and 8 other Amazon best-sellers.
From her experience developing a movement and training leaders for the past 14 years, she shares unique insights in each of her courses into how we can live out the proven mantra of "Your Message Matters."
Katie and her husband Tap run their business, love on their students, and homeschool their five kids from tropical Mexico. Connect with her at www.HandprintLegacy.com
Frequently Asked Questions
How long do I have access to the course?
How does lifetime access sound? After enrolling, your student portal will open and you have immediate access to the entire course to go through at your own pace. You also have unlimited access to the course materials for as long as you like - across any and all devices you own.
Are there textbooks?
Yes, you'll need to secure your own copy of "What Do I Know About My God?" by Mardi Collier and "Bible Based Business" by Jeff Testerman. Check your local library, booksellers or Amazon. The PDF ebook of "Faith Like Flamingos" and the student workbook are included as complimentary downloads as soon as you login.
Does the program include live coaching calls?
Yes. This program is a Do-It-Yourself personal study course and you will have access to 2 live discussion/coaching calls with our coaches during the 6 weeks. If you need other feedback, clarification or have application questions, the instructor, coaches and other students and alumni are standing by to support you in the community Facebook group.
Is there a guarantee for this program?
Because you gain immediate access to the complete course materials upon registration, we allow 2 weeks from purchase to try out the material. In 5 years of offering it though, we've never had someone unhappy with the material or ask for a refund because it didn't meet their expectations.
I have other questions. What should I do?
Please email my team at
[email protected]
and we'll be happy to answer your questions.
Who is this program for?
Doing Business, with God is for people of faith who own an online or a small business and are ready to overcome the current market challenges and walk our their faith in their business life. It is for you
If you want to do business God's way and in his strength.

If you desire to grow inspite of COVID and the current uncertainty.

If you are looking for support from other Believers in business.

If you are floundering, fearful or insecure and just need a little nudging along.

If you don't know what to do next to grow your business.

If you want to learn how to do business with confidence in what He's called you to do in 2020 and beyond.
This program includes:
6 Training videos, (including transcripts and audio files) and the downloadable workbook materials ($197 value)

A private Facebook community for support during and after the course. (invaluable)

24/7 access to our community and coaches through the Facebook group ($147 value)

2 live discussion/ coaching calls to further cement the application of what you learn ($797 value)
BONUSES:
BONUS: ebook + audio book of Faith Like Flamingos ($32.99)

BONUS: video recordings of the 4 session Business with God Masterclass ($197)

BONUS: podcast interview (i.e. free advertising of your business/ministry)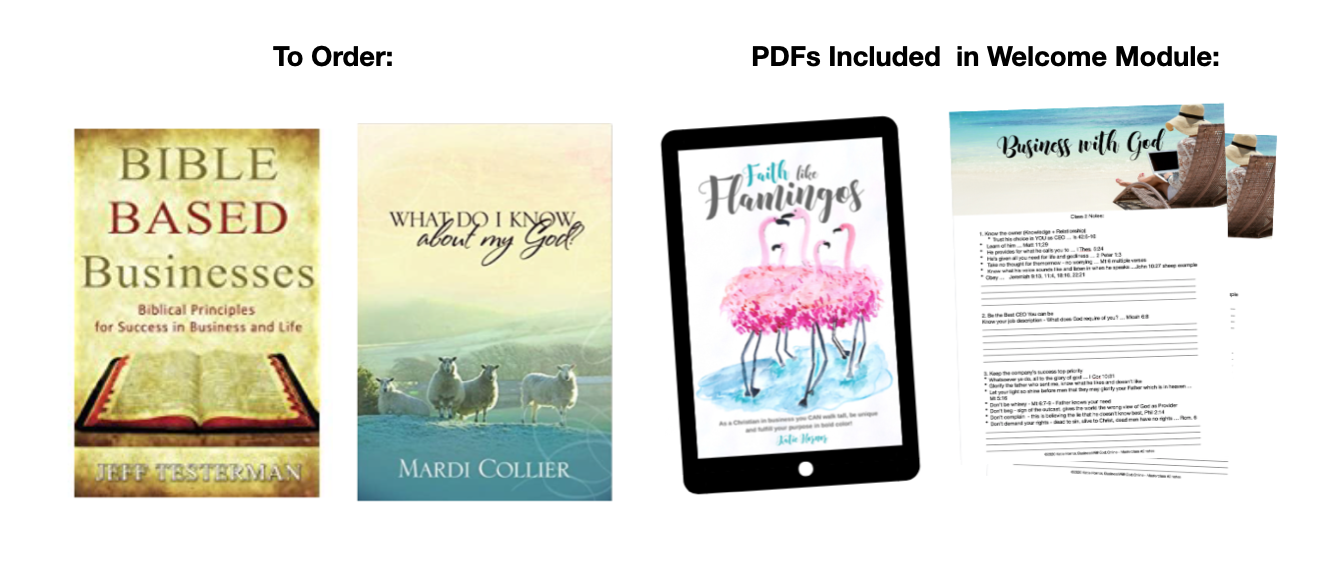 Participating is as easy as 1, 2, 3
Reserve your spot by making a payment of just $199 USD

The student portal will open immediately upon payment and you can download the included PDF of Faith Like Flamingos and the course workbook, and request to join the student facebook group.
Secure your text books from your library, book lending app or favorite bookstore: What Do I Know About My God? by Mardi Collier and Bible Based Business by Jeff Testerman.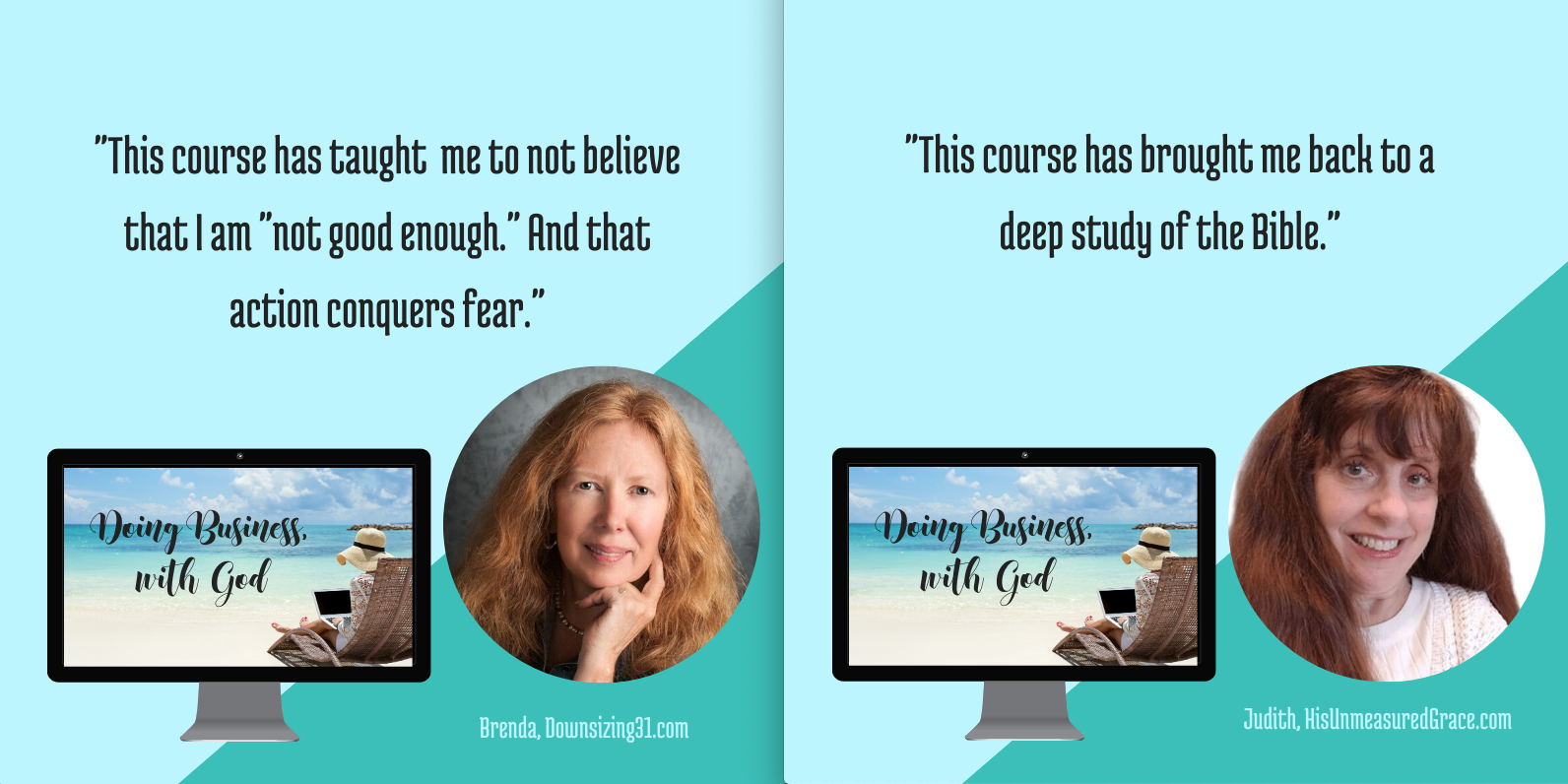 All you Need to do is decide to say "Yes!"
"Yes" to renewing their mind when it comes to how they think about God, business, selling and money

"Yes" to overcoming the feelings of inadequacy and stepping into confidence and peace

"Yes" to surrounding themselves with a community of like-minded Kingdom business owners

"Yes" to creating a business that honors God and puts his goals first

"Yes, I'm All In!"
My Promise To You
Upon program completion, my promise to you is that you'll be spiritually refreshed with new understanding of who God is and what that means practically for your business.
That you'll be equipped with the knowledge and strategies to move your business forward in confidence, to accomplish what he's asked you to do and serve those he's divinely appointed you to serve.
You will have lifetime access to the all training materials in the program.
The total value of all of this is $1,370.00. Nearly 3 times the investment.
Enroll now and get $1,370.00 of real-world value for just $497.